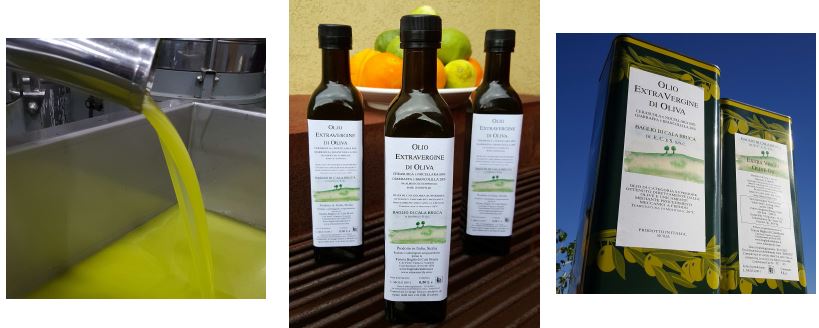 We produce and sell superb Extra Virgin Olive Oil in coherence with the procedural guidelines of the EU PDO (Protected Designation of Origin) "Valli del Trapanese".
Please download and read the brochure in Italian or in English.
You can order our products emailing your request to This email address is being protected from spambots. You need JavaScript enabled to view it.. We will answer to you as soon as possible, satisfying your request of information.
PRICES
Extra Virgin Olive Oil "Baglio di Cala Bruca" in box with six bottles 500ml each: Price € 50,00/for each box.
Extra Virgin Olive Oil "Baglio di Cala Bruca" in can 5 litres: Price € 75,00/for each can.
ORDERS AND PAYMENTS
Per ordinare i nostri prodotti scrivi la tua richiesta a This email address is being protected from spambots. You need JavaScript enabled to view it. completa dei tuoi dati e dell'indirizzo per la spedizione.
Dopo che avrai ricevuto la nostra conferma di disponibilità via email potrai pagare l'importo indicato:
- con bonifico bancario sul conto con codice IBAN: IT96E0301904606000008023998 e codice BIC: RSANIT3P
- con carta di credito o Paypal su connessione protetta e sicura, cliccando sul bottone sottostante e seguendo le istruzioni.
DELIVERY
Il trasporto avviene con corriere UPS o Poste Italiane - SDA. Sui siti dei vettori è possibile tracciare la spedizione.
I tempi di consegna sono generalmente tre giorni lavorativi per l'Italia. Per le spedizioni internazionali vi forniremo la tempistica del corriere.
Le confezioni sono adeguatamente imballate e la spedizione viene assicurata per l'importo dell'ordine.
I costi del trasporto, a carico dell'acquirente, verranno comunicati insieme alla nostra conferma di disponibilità.